I decided to write a blog on how to pack light for winter, as I think it will be a useful topic to discuss at this time of the year when many of my customers and friends are traveling to colder countries.
I travelled overseas frequently when working in my previous company, almost once every month for a couple of years. Such business trips can range from 3 days to 2 weeks : traveling to a few cities. But regardless of the length of my trip, I always brought along a cabin size luggage even during the cold winters.
During such cold winters, my technique to pack light was to layer my clothes and still able to keep warm. Before starting to write this blog, I actually googled to find out more tips from other women, and they, too, layer their clothes in order to pack light. So, I guess it is a good technique. Here we go…
Pack Your Tops in Layers
1. Choose your base layer for your top
Camisoles and tank tops are a useful base layer because they can be worn under virtually anything for added warmth, and adding a couple to your packing list won't take up much weight and space. The bonus about tanks and camisoles is that you can also wear them later on your return trip to Singapore or travelling to other warmer places, for exercise, or to sleep in.
My preferred base layer is a thin, short or long-sleeve shirt, made of wool. I have mine in a solid colour so that I can wear it under other "normal" tops, or wear as a top all its own when going to warmer places.
The goal here is to have something that acts as your core to keep you warm. Once you have that, you can move onto your presentation layers.
2. Add your presentation layers
Presentation layers tend to be what people will see you in when you're indoors. These can be cute cardigans, thin sweaters and tunics, just to name a few. I love tunics and I think they are a great presentation layer option here as they cover more of your body.
3. Seal it in with your jacket layer
Depending on the weather at your destination, and the weight of your previous layers, this may or may not be your final layer. For me, I skipped this layer. Anyway, for this layer, I recommend a denim jacket, a nice zip-up fleece, or an insulated jacket.
4. Add extra weather protection
From there, add a light coat or jacket that you can carry on board the plane. I recommend to make this a must-have layer. You can use this final layer to add extra warmth, or to block out cold wind or repel water.
Pack Your Bottoms in Layers
1. Choose a base layer underneath your pants
Whatever pants you bring, you can layer them by wearing a pair of long underwear, leggings or tights underneath.
The brilliant part about leggings is that you can also wear them on their own under long tops, or as pajama bottoms meaning you have more outfit options in addition to added warmth layers!
2. Choose your pants
When it comes to pants, most people bring jeans for cold weather. They may not be practical on all trips, but they are easy to layer when the weather is especially cold.
Wear Insulated Footwear
Whichever shoes you decide to bring should keep out water at the very minimum since cold weather also has a tendency to bring rain or snow, so those athletic shoes that have breathable panels aren't the best.
Boots will both keep your feet warm, especially when paired with wool socks, and look great. Just make sure to wear them on the plane to avoid having to find space in your luggage.
Use Accessories to Change Up Your Look
 If all of your clothing items are in neutral or solid colors, it's easier to mix and match them. Use your accessories as a way to give an impression of changing outfits from day to day. It may be the same coat every day, but you can wear different hats, scarves and gloves to change up your look. It's much easier to pack lighter this way.
Pack Healthcare and Skincare for Cold Weather
If you have a sensitive nose, and easily get congestion, do not forget to pack Pure Papaya Care Vapour Balm. It is ideal as a winter balm to make breathing easier.
Disposable heat pads are perfect for use on the go. But if you preferred a more eco-friendly solution, consider the traditional hot water bottle. Hot water bottles now come in so many attractive designs, that it is fashionable to bring with you on planes and buses. Also great for keeping you warm during a walk in the cold weather. Visit our wellness boutique to grab one today!
No matter what your skin condition is, cold weather condition will surely create havoc on your skin. Your skin will turn dry and start to peel if you have not been diligent in hydrating your skin even before going for this trip. So, bring along the richest face and body cream you can find within your favourite skincare brand.
Esse Ultra Moisturiser is my current favourite dry skin rescue balm. Pure Papaya Care Ointment is an all-time favourite to keep in handbag for on-the-go deep nourishment and protection of lips, face and body.
Packing It All Up
Save luggage space and weight by wearing as much as possible onto the plane. Choose your heaviest and/or bulkiest layers and items- like your boots, jeans and bulkiest top- and making sure those are worn onto the plane.
And of course, it's always helpful to ask yourself: What else do I need? If something isn't vital, then leave it behind!
Wishing you a happy winter holiday!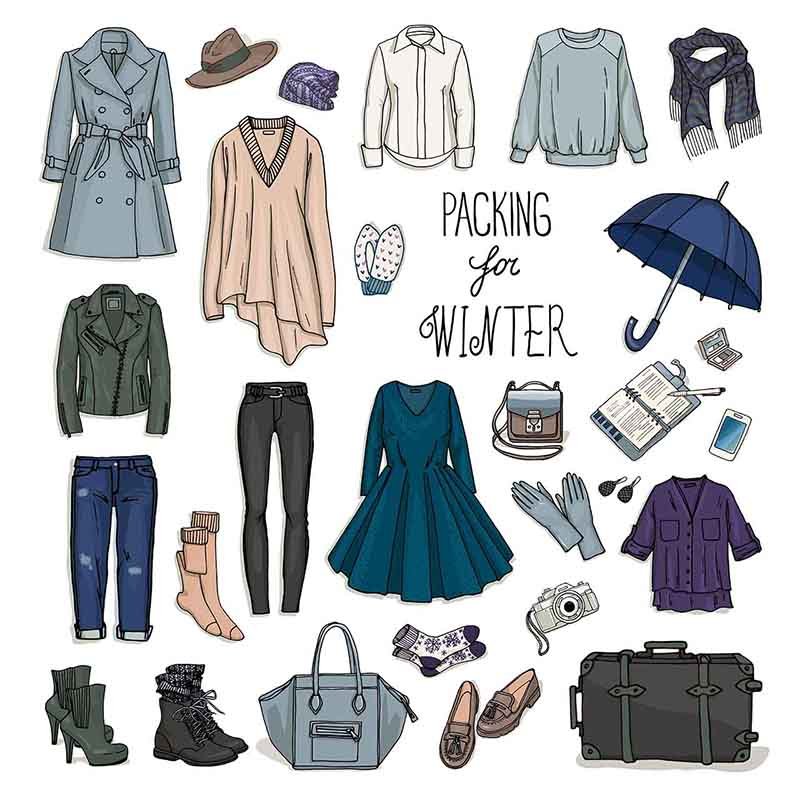 About the Author
---
June Lin is the founder of Juneberries Haven.