I have had customers telling me that they heard from friends and also read on internet that sleeping in a bra can cause breast cancer. When I first heard of this rumour, I was shocked. I wondered how such a simple and comforting action of wearing a bra to sleep can cause any health issue.
I was then reminded of my experience of having a bigger boobs (about 3 cups size up) when I was breastfeeding my baby a few years ago. At that time, I went bra-less because I thought it would be convenient for breastfeeding especially at night. But I became increasingly aware of the existence of my breasts. Heavy, distracting and very uncomfortable. Only by sleeping in a bra, my girls were able to get the necessary support, and I could sleep with comfort at night.
I found out that the rumour came from a myth that goes back to 1995, with a book called Dressed to Kill, in which the authors claimed that women who wore tight-fitting bras every day, particularly underwired ones, had a much higher risk of developing breast cancer than those who went bra-less. It claimed wearing tight bras restricts lymph nodes around the breasts, thereby trapping toxins that cause cancer in the body.
However, according to the American Cancer Society, that study failed to follow standard practices of epidemiological research, nor did it take into consideration known risk factors for breast cancer and other variables. But it did not stop this theory from circulating on internet and on social media.
Dr Amber A. Guth, MD, breast surgeon and an associate professor of surgery at NYU Langone Medical Center explained why this theory is bogus: The way the lymphatics work is they go from the edge of the breasts to the nipple area, then out into the underarm. So it's not being compressed or stopped by a bra because it's happening away from where the underwire is. Other studies have also found there is no significant evidence that wearing a bra is connected to breast cancer risk.
Dr Guth went on to clarify that scientists are certainly looking at the chemistry of the breast, trying to see if there are different pathways at the molecular level that predict or are permissive for breast cancer development, but strongly doubt that external devises such as brassieres would have any effect on these pathways. Sleeping in a bra or support bra really is just a matter of the woman's personal comfort, and that is what I advise my own patients.*1
Dr Kristy Funk, a surgical breast specialist and founder of the Pink Lotus Breast Center (notable for her surgical treatment of celebrities Angelina Jolie and Sheryl Crow), sets the record straight about wearing your bra to sleep in this video. Click here to watch the video.
The conclusion is that there is no direct connection between sleeping in a bra and breast cancer. We have some customers who are used to sleeping with underwired bras, some who prefer non-wired bras and some who choose to go au natural. It really depends on each individual. However, wearing a sleeping bra could offer more support and comfort, especially for women with bigger breasts. Also for those who have guests staying in their house, it is more modest to wear a sleeping bra too.
The featured blog image shows a model wearing Sloggi Zero Feel bra.  Having sold over 1.75 million pieces in Japan alone in 2016, this game-changing range is now available in our lingerie boutique. Sloggi Zero Feel bra adjusts to your shape, creating a feeling akin to a second skin. Featuring innovative Japanese 40-­gauge fabric – patented until 2020 -­ Zero Feel uses unique technology to offer superb softness with 360° stretch for complete freedom of movement, as well as a complete lack of seams or labels to prevent skin marks and irritations. You should wear Sloggi Zero Feel bra to sleep, and you will wake up every morning with silky smooth breasts, totally wrinkle-free skin.
If you prefer sleeping in a bra, come and visit us at Thomson Plaza #01-06 for a sleeping bra fitting today!
Note *1 : http://www.huffingtonpost.com/2015/12/18/sleeping-in-a-bra_n_1784551.html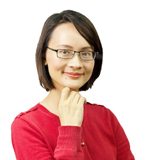 About the Author
---
June Lin Jun Yin is the founder of Juneberries Haven. With over 15 years of working experience in Japanese MNCs, and as the only female head of department leading a team of 30 engineers, she has built up her leadership, negotiation and marketing skills. As a leader, she groomed several male engineers, helping them to advance in their career. Now as a business owner, she wants to help women to become more confident with themselves.
This blog was written to share her own experiences, as well as that of others to help solve some of the problems, which her audience (both men and women) maybe facing. It also serves as a channel for June to rekindle her love for writing.