With Christmas around the corner, everyone is in a holiday mood. Are you planning for an overseas trip or have you just come back from holiday in a cooler country?
A few days ago, my regular customer returned from holiday in China and she complained to me about the difficulties to completely dry her Triumph Aqua and Magic Wire bras. She wanted to buy a bra with thin or no padding but I ended up sharing with her tips on how to wash and dry her padded bras the right way. Although I did not make any sales from her on that day, I was glad that I had help her to regain her confidence in Triumph Aqua and Magic Wire bras. They give such good push-up effects that they can make woman of any ages feel fabulous about herself.
Let me pen down the tips on how to wash and dry your bras the right way here:
1. Wash bra frequently
We recommend to wash bra frequently to keep it in tip-top condition as perspiration, perfumes and body lotions can all mark the fabric and regular washing minimises the risk.
"Do I have to wash it after every single wear?"
Well, the answer is that there is no exact rule about when to wash your bra. Some people wash their bras after a few wears, while others say if it smells, it is time to pop it in the wash.
In Singapore hot weather, you probably sweat a lot and so my advice is to wash it after every single wear. But during cool weather or when traveling during winter in other countries, you need to modify your washing habit to washing it only after a few wears since you hardly sweat and you may have difficult to dry it.
2. Check the care instructions on the label
Always read and follow care instructions on the label. Understand what each care icon means:

No Tumble Drying
This article must NOT be tumble dried.
No Bleaching
This article must NOT be bleached.

No Dry Cleaning
This article must NOT be dry cleaned.
No Ironing
This article must NOT be ironed.

Hand Washing
This article is only suitable for hand washing.

Delicate Washing
This article can be machine washed on a delicate wash cycle. Do not exceed the wash temperature shown on the icon.
3. Hand wash whenever possible
We recommend to hand wash any bra with an underwire as wires can be bent, damaged or broken or may even come out in the washing machine. When hand washing, always choose a washing liquid or powder specially made for delicate fabrics and make sure all powder is dissolved before putting your bras in the water.
You can leave the bra to soak for about 5 to 10 minutes for easier stain removal before hand washing. Do not use brush to scrub as it will cause your bra to stretch out faster. Remember to wash darker colours separately.
If you really must use a washing machine, always use a lingerie bag to help protect your delicate bras from the wear and tear of the washing machine. Before putting your bra in the lingerie bag, ensure that the hooks are all done up to stop stray hooks from attaching themselves onto your expensive lace bra and ripping a cute little hole in the cup. Make sure you set the machine to cold wash on a gentle cycle. Always wash your bras with other lightweight pieces. If you throw them in with your jeans, towels or jackets, you may risk having these heavy clothing pressing onto your bra cup and making a permanent dent on the cup or bending the wire. Also do remember to wash the light and dark colours separately. Do not tumble dry bras unless the care label provides specific instructions.
4. Gently squeeze dry
Do not wring your bras but instead put one fist under each cup and put the other hand on the cup to gently squeeze the excess water out. We recommend to dry in airy places but not under direct sunlight. Direct heat such as radiators, fires and even hot sunshine will cause the bras to discolour, especially whites.
5. Hang bra at centre band
We recommend to hang the bra at the centre band (see the illustration below) so that the water will drip out naturally and evenly when you air dry it. In this way, your bra can last longer.
Avoid hanging by the strap as this will not only cause the strap to lose its elasticity but also distort and damage the shape of your bra by stretching it.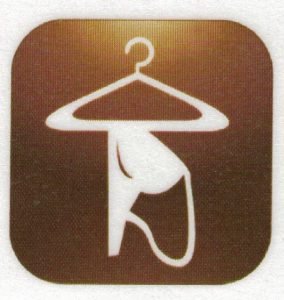 6. Store bra properly
Stack your bras when you store them inside the drawer or luggage bag, just like how we do for our shop display. It will help them keep their shape.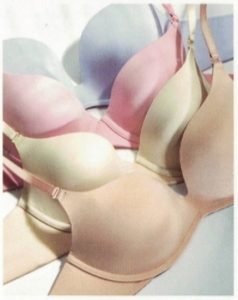 Do you find the above tips useful? Share them with your family and friends today by clicking the share button!
About the Author
---
June Lin is the founder of Juneberries Haven. She loves to write and her childhood dream was to be a journalist. She writes blogs now to share her own experiences, as well as that of others to help solve some of the problems, which her audience maybe facing.