The first locally transmitted case of the Zika virus in Singapore was announced on 27 August this year. At that time, my husband and I were very worried as our only child was very vulnerable to mosquitoes. Just 3 days before (on 24 August), she had returned from her school excursion with mosquito bites all over her legs, despite her teachers' claim that they used the best mosquito patches and insect repellent sprays.
We are not going to take any risk but we also wanted to avoid loading our daughter with potentially harmful chemicals, such as DEET and picaridin, which are found in many insect repellents. These chemicals can cause rashes, swelling and eye irritation. It also has a remote risk of neurological side effects. Does it mean that we have to keep our child from enjoying outdoor activities? We did keep her indoors on most days until in early September, when we discovered that one natural product called essential oil can help keep mosquitoes away.
Do you know what is essential oil? According to the Oxford dictionary, essential oil is a natural oil typically obtained by distillation and having the characteristic odour of the plant or other source from which it is extracted. So, essential oils are natural and have been used for thousands of years for their wonderful cosmetic properties. You may have experienced essential oils in spa treatment or bath and body care products. However these uses are only part of what those amazing essentials oils are capable of. I did some online research and here are my findings on which essential oils are most effective as mosquito repellent:
LEMON EUCALYPTUS OIL*1
According to an article published on healthline.com, lemon eucalyptus oil has been used since the 1940s, and is one of the more well-known natural repellents. It reported that the Centers for Disease Control and Prevention (CDC) has approved eucalyptus oil as an effective mosquito repellent, and that a recent study showed that a mixture of 32 percent lemon eucalyptus oil gave more than 95 percent protection against mosquitoes for three hours.
LAVENDER OIL*1
The same article on healthline.com also mentioned that crushed lavender flowers produce a fragrance and oil that can repel mosquitoes. Due to lavender also having analgesic and antiseptic qualities, in addition to preventing mosquito bites, it can calm and soothe the skin.
ROSEMARY OIL*2
People in other countries grow rosemary in pots so that they can shift it indoors in winter, since the plant does not tolerate long periods of cold climate. In warmer months, they place rosemary plant pots in the yard to control mosquitoes. It is because the rosemary herb contains an essential oil which acts as a natural mosquito repellent. So, rosemary essential oil will surely make a skin-friendly mosquito repellent.
MINT OIL (MENTA ARVENSIS) *3
Mint oil is being used as an environmentally friendly insecticide for its ability to kill some common pests and insects. When applied on skin, it has a strong repellent action against mosquitoes.
SAGE OIL*4
Sage is one of the herbs that can be used to fight with mosquitoes. Tips include adding sage to our wood charcoal before preparing BBQ so that the smell of it fills the places at where we are cooking and eating, and keeps mosquitoes away.
Although these natural remedies come from plants, do take note that these oils can be harmful in high concentrations. It is necessary to dilute the oil with carrier lotion or oil as suggested by the supplier. Always do a spot test on a small patch of skin to check for allergy.
Good news is that you can enjoy such natural remedies without having to prepare all by yourself… when you can have it all in a bottle of Shantala Active Body Oil…
World of Beauty's Shantala Active Body Oil contains over 70 precious certified natural active ingredients, including herbs and essential oils to fight against fatigue, acne, cellulite, lymphatic body stasis etc. With its unique blend of Lemon Eucalyptus Oil, Rosemary Oil, Mint Oil and Sage Oil, it is also an excellent natural defence against mosquitoes.
Let's shoo, shoo nasty mosquitoes away!
We apply Shantala Active Body Oil on my daughter about 3 to 4 times a week, whenever we do outdoor activities in the gardens, parks and nature. So far (touch wood), she does not get any mosquito bites, nor do I, who is also well-known as a mecca for mosquitoes. Do try it and leave your comments. Also do share with me some tips on other ways to repel mosquitoes or on your experiences with essential oils.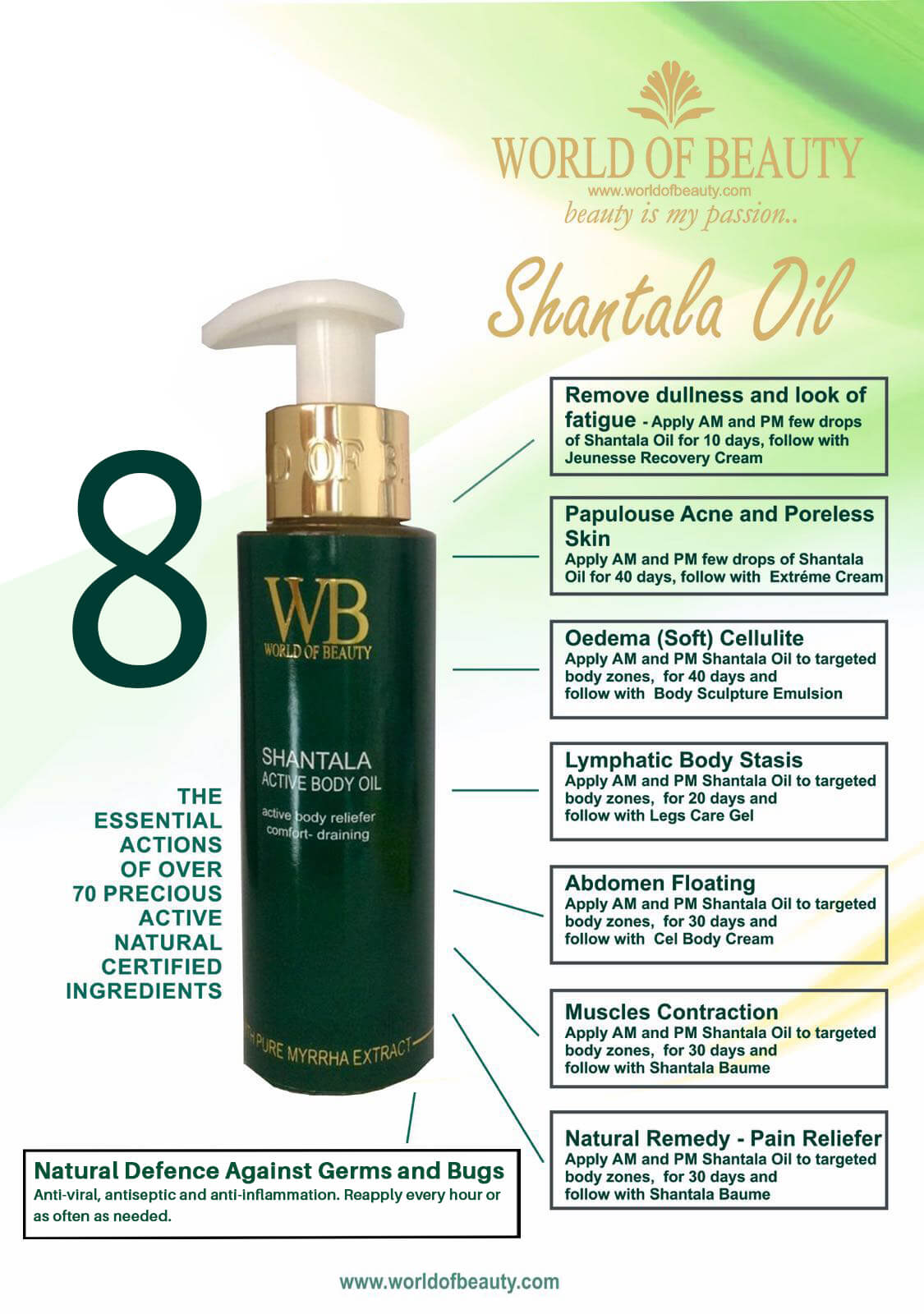 WHERE TO BUY
You can get retail size 100ml Shantala Active Body Oil at our retail store and salon partner:
Juneberries Haven
301 Upper Thomson Road
Thomson Plaza #01-07
Singapore 574408
Daniel Edwards Pte Ltd
6 Sin Ming Road
#01-12 Sin Ming Plaza Tower 2
Singapore 575585
Call 64510696 and quote JUNEBERRIES HAVEN to get $50* off any facial or body treatment.
(*T&C apply)
References
Note *1 : http://www.healthline.com/health/kinds-of-natural-mosquito-repellant#1
Note *2 : http://naturehacks.com/5-herbs-that-repel-mosquitoes/
Note *3 : http://www.wsj.com/articles/SB10001424052970204563304574318231044370704
Note *4 : http://naturalmosquitorepellents.net/articles/category/foods-that-repel-mosquitos/sage/
About the Author
---
June Lin is the founder of Juneberries Haven. She loves to write and her childhood dream was to be a journalist. She writes blogs now to share her own experiences, as well as that of others to help solve some of the problems, which her audience maybe facing.